NBI Clerance Caravan
Published: July 07, 2022 10:12 AM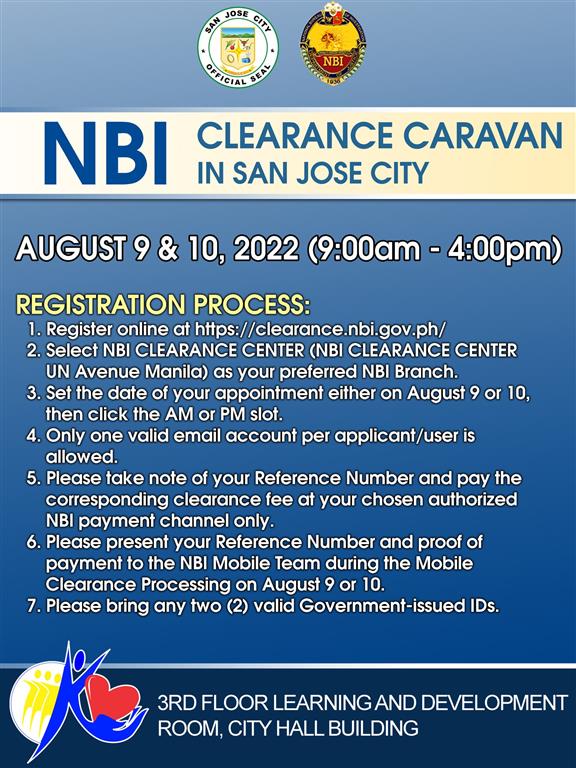 NBI Clearance Caravan
Registration Process:
1. Register online at https://clearance.nbi.gov.ph/
2. Select NBI CLEARANCE CENTER (NBI CLEARANCE CENTER UN Avenue Manila) as your preferred NBI Branch.
3. Set the date of your appointment either on August 9 or 10, then click the AM or PM slot.
4. Only one valid email account per applicant/user is allowed.
5. Please take note of your Reference Number and pay the corresponding clearance fee at your chosen authorized NBI payment channel only.
6. Please present your Reference Number and proof of payment to the NBI Mobile Team during the Mobile Clearance Processing on August 9 or 10.
7. Please bring any two (2) valid Government-issued IDs.
VALID IDENTIFICATION
• LTO – Driver's License / Conductor License
• PRC – Licensure ID
• IBP – License Card
• COMELEC – Voter's ID
• SSS – Social Security System Card
• BIR – Tax Identification Number ID
• POSTAL ID
• PHILHEALTH ID
• PAG-IBIG FUND ID
• ORIGINAL PASSPORT
• PSA NATIONAL ID
• SCHOOL ID W/ID NUMBER (presently enrolled)
• UMID
• SENIOR CITIZEN'S ID
• SOLO PARENT ID
• PWD ID
• COMPANY ID FOR GOVERNMENT EMPLOYEES
SUPPORTING VALID DOCUMENTS
• ORIGINAL PSA/NSO MARRIAGE CONTRACT
• ORIGINAL TRANSCRIPT OF RECORDS
• ORIGNAL COLLEGE DIPLOMA W/ S.O.
• ORIGINAL COMELEC VOTER'S CERTIFICATION W/ PHOTO
• DSWD – Certificate of Foundling
• ORIGINAL CERTIFICATE OF TRIBAL MEMBERSHIP
• FOR LOST ID (print out of original certificate of record of issuing agency)
• AUTHENTICATED BIRTH CERTIFICATE
• OLD NBI CLEARANCE CERTIFICATE (original or clear photocopy)
FOR ALIEN APPLICANTS
• ORIGINAL PASSPORT W/ PHOTOCOPY
• ACR ID OR I CARD – Alien Certificate of Registration w/ photocopy
• FOR ALIEN BORN IN THE PHILS. (ORIGINAL birth certificate is required in the absence of Passport or ACR.)